Right In Sight Charters
Posted by RWDH on 16 04 2015.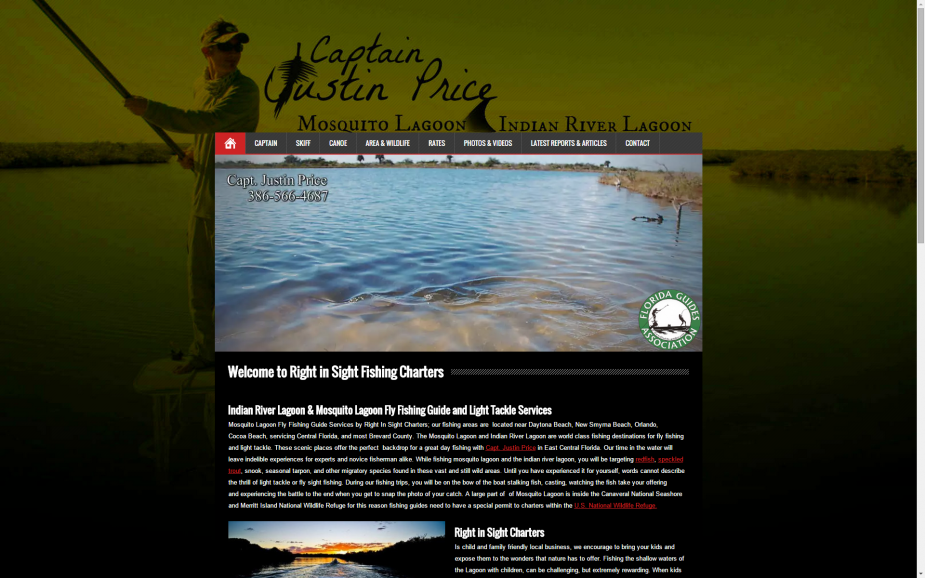 The Who?
Mosquito Lagoon Fly Fishing Guide Services by Right In Sight Charters; our fishing areas are  located near Daytona Beach, New Smyrna Beach, Orlando, Cocoa Beach, servicing Central Florida, and most of Brevard County. The Mosquito Lagoon and Indian River Lagoon are world class fishing destinations for fly fishing and light tackle. These scenic places offer the perfect  backdrop for a great day of fishing with Capt. Justin Price in East Central Florida.
---
The Why?
We had the opportunity to work with Capt. Justin Price from Right In Sight Charters, LLC. Justin was a referral by a great friend and satisfied customer, Kevin Fenn at East Cape Skiffs. Thank you Kevin for the referral. Justin Price was running into a few issues with his old providers and he was looking for a hassle free solution to suffice his business needs:
Better support
Reliable online email
Help with SEO compliance
Security
Fast service
Understanding of SEO and a holistic approach
Increase traffic to Right In Sight Charter site.
Tracking
---
The How?
BETTER SUPPORT: Out of the gate, we provided better support. We scheduled phone conferences and Skype driven meetings to understand Right In Sight Charters'  requirements and expectations. At DRAFT, LLC we want to provide unparalleled support in the industry and there is no better method to understanding a problem than carefully listening.
EMAIL LIMITATION: Due to a 10MB limit on his previous email account,  Justin had to keep deleting emails from his inbox and in some instances emails were being bounded back. We approached this issue by providing a business email address powered by Google Apps, the most reliable provider in the industry.  Now Justin has access to an email calendar and many other bundled features.
SEO: At the time, Justin's site did not have a very high SEO score. We worked on his site to make sure all his pages were SEO optimized and the content targeted a specific audience and ran SEO score tools to assure it ranked  90+
SECURITY: All the traffic to Right In Sight Charters is secured by an SSL certificate and is filtered by our partner CloudFlare. At DRAFT, LLC we are pioneers in making these two features a standard for all installations. We believe that a secure internet is a better internet for all.
SPEED: We are speed addicted and we want to make sure each of our servers are optimized to run WordPress and PHP/MySQL. Providing code optimization and cache delivery system to the service the fastest content possible. This is done by pre-compiling code with XCache or delivering content through CDN and leveraging CACHE system on the right places.
UNDERSTANDING SEO: We had a Skype Drive training and gave explanation on SEO and Google ethics, as well as better practices. We believe in being transparent with our clients. There is no magic sauce- only ethics and good content with structure.
INCREASED TRAFFIC: We aimed to create content with specific keyword density to grab a targeted audience.
TRACKING: We have several forms of metrics to track who is coming to your site and from where; ranging from Google Analytics, Google Webmaster, Bing Webmaster, Cloud Flare analytics and others. What is measured, gets improved.  We want to see Right In Sight Charters succeed. We want all our customer to succeed.
---
Whether you are looking for a new hosting/development solution or just for curiosity.